---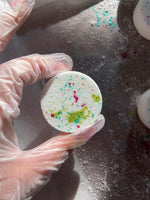 Shower steamers fizz and release essential oils and menthol crystals into your shower to create an amazing, aromatherapeutic experience. Shower steamers create a luxurious setting at home, for your self care needs. Made with menthol crystals, peppermint and Eucalyptus essential oils. These can help relieve headaches, congestion and overall give you a sense of relaxation. To use place on on a glass plate first, then place on the ledge of your shower. Sprinkling some water on it will activate it. 

Circle Shower Steamers: Comes in a package with 4 circle tablets. The package weighs 5 oz. 
Ingredients: Baking soda, citric acid, Menthol crystals, cornstarch, poly 80, peppermint essential oil, eucalyptus essential oil and mica powders.
 WARNING: Only use in a shower. DO NOT place in a bathtub full of water, as there are menthol crystals which shouldn't get on certain body parts. Do not touch your face or private body parts, after touching tablet. Rinse thoroughly if this occurs. Keep away from children and pets. If you'd like to have your child use a Shower steamer they MUST be supervised by an adult. DO NOT EAT. If this happens call Poison Control immediately (800)222-1222